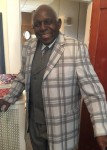 Deacon John
Leo
Coward, Sr.
February 27, 1926
-
April 24, 2018
Resided in

Richmond

,

Virginia
Obituary
"The righteous perish, and no one takes it to heart: the devout are taken away, and no one understands that the righteous are taken away to be spared from evil. Those who walk uprightly enter into peace; they find rest as they lie in death." (Isaiah 57:1-2)
Whereas God in his infinite wisdom saw fit to take from our midst our dad, grandfather, brother, and friend to all, we bow in humble submission to Him who doeth all things well!"
"Buddy", as he was affectionately called departed this life on Tuesday, April 24, 2018. He was born on February 27, 1926 in Greenville, North Carolina to Amissie and Leon Coward Sr. He had four brothers, Arthur Ray and Robert Earl (Bobby) Coward, Henry Tyson, and Robert Moore; four sisters, Fannie Mae, Lossie, and Martha Lee Coward and Jessie Powell. Buddy received his early education from the Greenville, North Carolina. He attended Mt. Sinai Holy church in Kinston, North Carolina, as a child where Elder Elmira Becton was the pastor. At an early age, he met Bishop Annie Chamblin, who became his guardian and pastor. From 1944-1946, he served in the United States Army. While there, he functioned as a supply clerk: carrying materials. As a result, he served during two wars, World War II and the South Pacific War and received two Battle Stars during his service.
In 1946, he married Rosa Lee Simons and to this union of over 50 years 12 children were born. In Richmond he was a dedicated member of Jerusalem Holy church where he served faithfully. For over five decades he immersed himself into the ministries of Jerusalem Holy Church under the pastorate of the late Bishop Annie B. Chamblin, until her death, then Bishop Olive C. Brown, followed by Elder Shirley McCoy. A special interest and devotion to him was the Ministry of Music. He served faithfully in the senior choir for many years. One can recall with great fondness his rich tenor voice resonating as the choir sang the majestic anthems of the church, especially during the Easter Cantata; and his featured tenor part: "Thou sayest it…!" His song and voice were powerful because his life was powerful: the centerpiece of his existence was a strong prayer life. Fond memories reign of him praying emotional heart wrenching prayers in church, but fonder memories exists of his nightly prayers, when he prayed individually, and intensively for his wife, as he called each of his twelve children by name, his leaders, his church, and himself. Equally as strong was his love for the Word of God, therefore, he was always present at the weekly Bible Studies and Sunday school. He loved the Lord and gave his time, talents, and resources for the building-up of God's Kingdom! Also, at Jerusalem Holy Church, he served as a Sunday School Teacher, member of the Usher Board, Deacon, and then the Chairman of the Deacon Board. During that time, he and several other men of the church were responsible for the labor in remodeling the church. Additionally, throughout his life working hard and entrepreneurship became his passions. He has worked diligently and has been recognized as a nurse's aide, licensed barber, realtor, and owner of Oakwood Barber/Beauty Salons, Coward's Furnace and Oil Burner Service, and Coward's Landscaping Service. After the death of Rosa Lee, he married Anniese Carmichael McCray, to whom he was married to until death.
On April 24, 2018, in the early morning hours, he quietly went home to be with the Lord. Cherishing his memory are a devoted and loving wife, Anniese Coward; 12 children, Leon Sr., Bishop Kenneth, Annice, Nathaniel, Douglas, Vernon Sr., Michael (Leah), Lamont (Ula), Stephanie, John Jr., Pastor Clifton (Vickie) and Timothy Coward (Christina); 25 grandchildren, 24 great-grandchildren; four brothers, Arthur Ray Coward (Mary), Robert Earl Coward (Bobby), Henry Tyson (Cynthia) and Robert Moore (Mildred); two sisters, Martha Bobbitt and Jessie Powell; sister-in-law, Chief Apostle Olive C. Brown; a host of nieces, nephews, cousins, godchildren, neighbors and friends
arrangements by Chiles Funeral Home can be viewed at the bottom of this page.
To send flowers or a remembrance gift to the family of Deacon John Coward, Sr., please visit our Tribute Store.
Services
Visitation
Chiles Funeral Home
2100 Fairmount Ave
Richmond
,
VA
United States
23222
Service
Victory Tabernacle Church of God
11700 Genito Rd
Richmond
,
VIRGINIA
23112
Burial
Oakwood Cemetery
Nine Mile Road
Richmond
,
VA
US