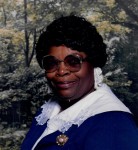 March 10, 1928
-
October 10, 2019
Resided in

Richmond

,

Virginia
Obituary
Ida Mae Dubois was born in Wilmington, North Carolina, March 10, 1928. As she told it, on the day she was born a song was playing on the radio, and when Catherine Dubois; her mother, and Willie Shuford, her father heard the song that was how she was named. The song was, "Ida Sweet as Apple Cider."
She unwittingly took part in the history of African Americans. She was part of the northern migration of southern blacks, that sought better opportunities outside of traditional southern labor. That's how she ended up in Richmond, Virginia, sometime during World War II. She was no more than fourteen/fifteen years old. She briefly attended Maggie L. Walker High School.
She married a man from the Fairfield area of Richmond. Ida Mae Cosby went on to raise a family on her own. She kept a roof over the heads of three children; Margrett, Donna and Milton. She made sure they ate and had clothes on their backs. She emphasized going to church; she was deeply spiritual being the daughter of a preacher man. She stressed getting an education and hard work. She never married again, but she was rewarded with grandchildren and great-grandchildren.
Her grandchildren are: King Erwin Cosby, Queen Kilby, John Kilby, Willie Kilby Jr., Milton Leroy Cosby Jr. Her legacy includes a host of great grandchildren and great-great grandchildren; Arnold Jr., Benjamin, Kristopher, Jae-Shawn and Damian Harris, Asia, A'Vohn, Alicia Kilby. Great-great grandchildren: Arlene, Armni, Shymone, Shymiera Harris. She outlived most all her brothers and sisters. Ida Mae Cosby is also survived by a host of nieces, nephews, and cousins.
In the end Ida was made a destitute. All that she worked for and cherished was lost. Lorna Cosby, Ida's only daughter-in-law, and her husband came to oversee her. When there was no one, Lorna took the mantel of humanity, and gave Ida purpose and reasons to continue. She nurtured and cared for Ida Mae, until Ida breathed her last breath.
On October 10, 2019, Ida Mae Cosby, met her Creator and quietly closed her eyes at MCV VCU Medical Center, ironically the place where she worked for years and retired. She was blessed to be ninety-one years old. She is now with her ancestors. May her spirit watch over her blood kin for eternity, or if her soul should find new life let it be a good life and be at rest.
To send flowers or a remembrance gift to the family of Ida Cosby , please visit our Tribute Store.
Services
Visitation
Chiles Funeral Home
2100 Fairmount Ave.
Richmond
,
VA
US
23223
Service
Cedar Street Baptist Church
2301 Cedar Street
Richmond
,
VA
US
23223
Burial
Oakwood Cemetery
Nine Mile Road
Richmond
,
VA
US